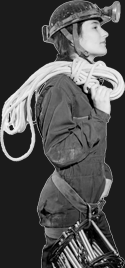 Pensez à prendre
votre assiette...Take your plate
with you...
Vous savez tous comment ça marche aujourd'hui dans les GRANDS évenements : chacun amène son assiette, son verre, et ses couverts... C'est notre petite contribution pour sauver la planète!
Pour en savoir plus, cliquez ICI.
You certainely know how it goes today : every one brings its own plate, flatware and glass... It is a little contribution to save the planet!
To know more, click HERE.
Annulez de suite votre voyage aux Maldives ou le mariage de votre fille prévus pour le week-end de la pentecôte 2013 ! Car pour rien au monde vous n'allez vouloir rater le 5Oe anniversaire de la Fédération Française de Spéléologie ni le 8e Euro Spéléo Forum à Millau.

Le congrès de Millau 2013 c'est deux thèmes: "les mondes souterrains" pour le congrès fédéral et "L'histoire des fédérations spéléologiques nationales en Europe" pour le congrès européen. Mais c'est aussi, bien sûr des tas d'occasions de s'amuser, de s'instruire et de rencontrer des nouveaux amis : des réunions interminables (si on part pas avant la fin), des conférences sérieuses (si on les comprend), des expositions intéressantes (si on va les voir), des projections fascinantes (si on s'endort pas), des stands pour se ruiner (si on a des sous), des cavités accessibles à tous (si on a pas oublié son casque à la maison), des buvettes pour se reposer après l'effort (si on a fait des efforts), des fiestas débridées (si on n'a pas fait trop d'efforts), des repas pour se remplir la panse (si on n'en a pas marre de l'aligot)... et une tyrolienne de plus de 2 kilomètres (si on veut battre le record du monde).

Ca y est, vous êtes convaincu de venir ? Si c'est pas le cas, relisez la phrase précédente.


Tant qu'à faire tant de kilomètres et dépenser plein d'essence, pourquoi se contenter d'un seul week-end ? Profitez-en pour venir découvrir les expositions, les cavités equipées, les causses aveyronnais et leurs spécialités culinaires dès le 8 mai 2013. Cancel right now your journey in the Maldive Islands or the marriage of your daughter planned for the weekend of the Pentecost 2013! Because for nothing in the world you want to miss the 5Oe birthday of the French Federation of Speleology or the 8th Euro Speleo Forum in Millau.

The congress of Millau 2013 is two themes: "The subterranean worlds" for the french federal congress and "The history of the national speleological federations in Europe" for the European congress. But it also is, of course heaps of opportunities to have fun, to educate itself and to meet new friends: endless meetings (if you don't leave before the end), serious conferences (if you inderstand), interesting exhibitions (if you are going to see them), fascinating projections (if you don't fall esleep), stands to ruin yourself (if you have money), cavities accessible to all (if you haven't forgot your helmet at home), refreshment rooms to rest after the effort (if you made efforts), unbridled parties (if you haven't make too much efforts), french meals (if you haven't had already enough)... and a tyrolean of more than 2 kilometers (if we want to beat the world record).

That's it, you are convinced to come ? If it is not the case, read again the previous sentence.


Travelling so far away just for a WE ? You can com earlier to discover your expositions, equiped cavities, Aveyronnais limestone plateaus and their culinary specialities from May 8th, 2013.
A bientôt à Millau !
les 18, 19 et 20 mai 2013 pour le congrès
et toute la semaine d'avant pour en profiter !Seen you soon in Millau !
on the 18, 19 et 20 may 2013 for the euro speleo forum
and the whole week before to enjoy !